The Russian Mobile Ad
Ecosystem Map
On October,24 IAB Russia issued an updated version of The Russian Mobile Ad Ecosystem Map. The purpose of the project is to provide the overview of the current state of the mobile ad market in Russia.
In comparison with 2017, more than 100 companies have been included to the industry's leaders' map. We are proud to announce that in 2018 FraudScore made it to the TOP-100 market leaders and we are featured in "Validation" section.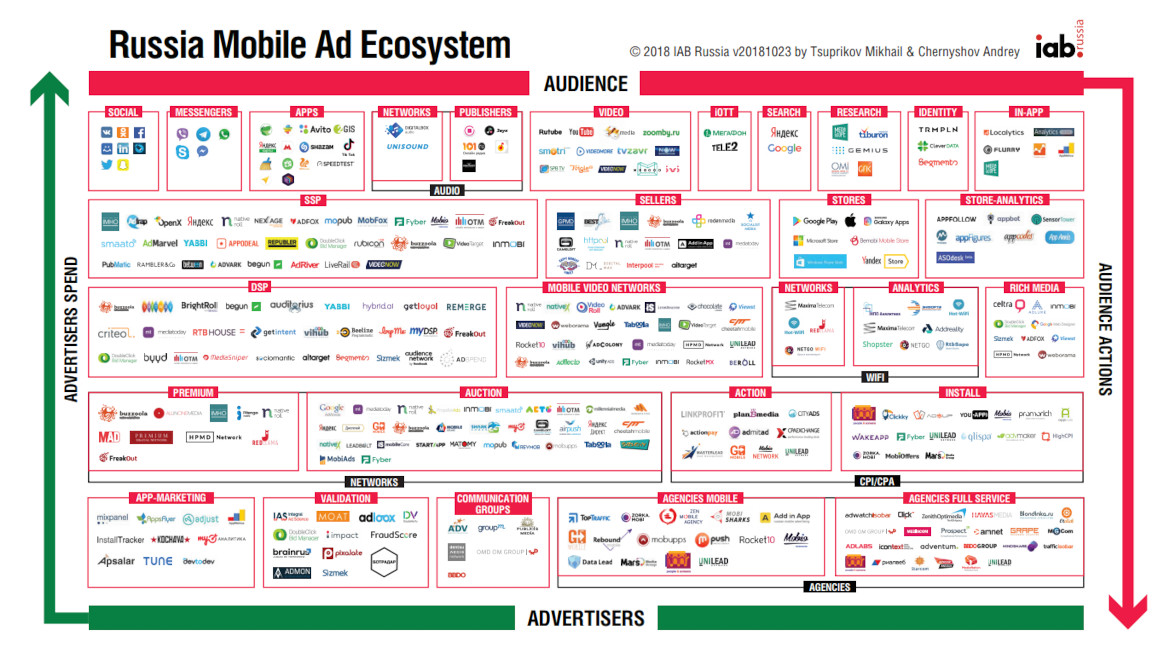 IAB report reminds that the audience of the mobile device market is rapidly changing – the whole environment has to coincide with the trends in content, behavior, technologies, expectations. All these lead to rapid and intense changes in mobile ad industry. Advertisers are now way more interested in mobile ads and are looking forward to expanding the budgets, as well as the requirements, on high-conversion advertisement.
As we've already mentioned in our previous blog post, FraudScore is always on the front-line to get to learn new features and tricks in ad fraud and find the silver bullet to-fight-it-all. And we are glad to know that more and more market leaders realize the damage that the ad fraud might cause. IAB is a non-profit partnership that is devoted to promote the development of the advertising industry and the moment such establishments start to draw attention to such companies as FraudScore, the moment we can tell that the fraud issue has really made all the industry aware.
Many thanks to IAB Russia for adding FraudScore to the market leaders! We are always open to answer any question and provide the most up-to-date info on the fraud issue. If you want to discuss the topic – we'll be attending Madrid Mobile Summit on November,13! We are looking forward to meet and giving away a ticket to one lucky attendee! Please, feel free to contact us and let's figure the fraud out!)